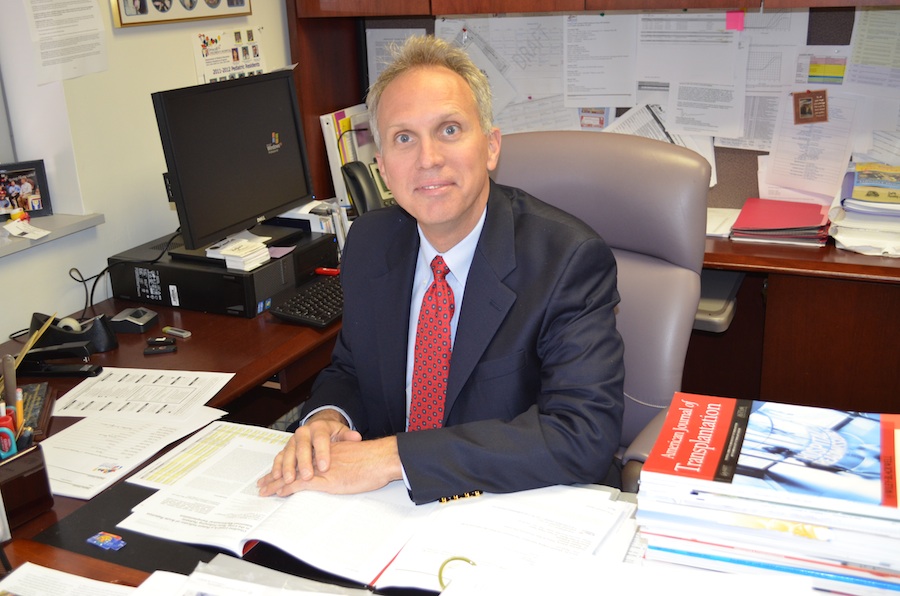 Dr. P. Stephen Almond, a pediatric surgeon and transplant surgeon with Children's Physician Services of South Texas, practices at Driscoll Children's Hospital in Corpus Christi, Texas. Currently, Dr. Almond is the Chief of Surgery and Head of the Division of Pediatric Surgery, Urology and Transplantation at Driscoll Children's Hospital. Dr. Almond holds the Bruce M. Henderson Chair in Pediatric Surgery and is a Clinical Associate Professor of Surgery at University of Texas Medical Branch, Galveston, Texas. He was voted "Best Doctor" in 2005 and voted by his peers as one of Americas Top Doctors according to US News and World Report.
Dr. Almond is a native Floridian. He received his Bachelor of Science (1984) and Medical Degree (1987) from the University of Florida. He began his post-graduate training at Louisiana State Medical Center and Charity Hospitals (1987-1989). During his second year of surgical residency, he accepted a three year Research Fellowship from the Department of Surgery's Immunobiology Research Laboratory at the University of Minnesota Hospitals and Clinic (1989-1992). He completed his training in General Surgery Residency at the University of Minnesota (1995), Pediatric Surgery Fellowship at the University of Chicago (1997) and Transplantation Fellowship at Northwestern University Affiliated Transplant Hospitals (1999). During his transplant fellowship, he accepted a position at Northwestern University and Children's Memorial Hospital as a Pediatric Surgeon and Transplant Surgeon. Dr. Almond remained in Chicago until 2005.
Dr. Almond relocated to Corpus Christi in 2005 to establish a Pediatric Transplant Center and build a Department of Surgery at Driscoll Children's Hospital. The goals of the Department were simple: excellent patient care, education, and research. Since then, the Department of Surgery has grown tremendously adding surgeons, new surgical services, educational opportunities for residents and medical students, and publishing original research. The new surgeons include Dr. Haroon Patel (Pediatric Surgeon, 2006), Dr. Mohammad Emran (Pediatric Surgeon, 2007), Dr. Leon Smith-Harrionson (Pediatric Urologist, 20010), Dr. Juan Prieto (Pediatric Urologist, 2010-2012), and Dr. Ayisa Balbosa (Pediatric ENT, 2012). The new surgical services include Pediatric Renal Transplantation (Surgical Director, Dr. Almond, 2006), Adolescent Weight Management program (Medical Director, Dr. Mohammad Emran, 2010), Pediatric Level II Trauma Program (Medical Director, Dr. Haroon Patel, 2012), and establishment of an Urodynamics Laboratory (Dr. Leon Smith-Harrison and Natalie Barganski, 2011). To date, the department has performed over 60 pediatric renal transplants, over 20 bariatric procedures, and urodynamic studies.
Dr. Almond has a firm commitment to education. While at Northwestern, he received the Excellence in Education award. At Driscoll Children's Hospital, he has put together a rotation on Pediatric Surgery that provides clinical and didactic education to medical students (from North Texas Medical Center and Texas A&M) and pediatric residents from the Driscoll Children's Hospital residency program. In 2007, general surgery residents from the University of Texas Medical Branch at Galveston also began rotating on the service. Dr. Almond is also well published. He has over 70 publications in the fields of transplantation and pediatric surgery.
Dr. Almond and his wife have raised 4 children and still find time to enjoy family activities outside of medicine.
Please view P. Stephen Almond, MD Curriculum Vitae